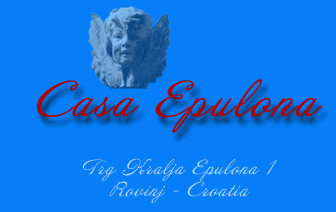 Terms & Conditions
Owner: Epulon d.o.o.
Email: epulon@optinet.hr
Address: Trg Kralja Epulona 1, 52210, Rovinj
Terms and Conditions
Bookings
 1.1     Casa Epulona is a fully furnished and equipped apartment. The price quoted for your stay includes hot water, electricity, air conditioning/heating, clean bedding and bathroom towels, as detailed below. It also includes the use of all the facilities within the apartment, as described in the information provided. If you are in any doubt whether any particular item is provided or not, please enquire at the time of booking.
 1.2     Please e-mail us if you would like to book Casa Epulona. The person making the booking must be aged 18 or over. If the apartment is available, we shall advise you of the price for your party. If the booking is being made more than 8 weeks before your stay, we shall ask you to send a deposit of 30% of the total cost to secure your booking. In the event of cancellation of your intended stay after this deposit has been made, but before payment in full is made, the deposit will not be refunded unless we are able to rebook Casa Epulona for the cancelled period.  If we can, we will refund 80% of the deposit.
 1.3     The full balance of the cost of your booking is payable 8 weeks before your intended stay. If the booking is being made less than 8 weeks before your intended stay, then the full cost is payable immediately. In addition, we shall need to collect the local tourist tax and guest registration fee at the same time as the balance of your booking cost (see Paragraph 2.3 below for details). In the event of cancellation of your stay after full payment has been made, the full payment will not be refunded unless we are able to rebook Casa Epulona for the cancelled period, in which event, we will refund 80% of your total payments (deposit and balance).
 1.4     Only in exceptional circumstances will changes to the above cancellation charges be considered. However, depending on the reason for cancellation, you may be able to claim the charge through your travel insurance policy. You are, therefore, advised to ensure that you have suitable travel insurance cover at the time of booking and for the entire travel period.
 1.5     In the very unlikely event that Casa Epulona becomes unavailable due to unforeseen circumstances for the dates required, we shall try to offer you alternative days at the apartment. If this cannot be arranged or is not satisfactory for you, we shall offer a full refund.
 1.6     Payment of either deposit or full amount will constitute a binding contract between the person making the booking and Casa Epulona and implies acceptance of these terms and conditions. Payments should be made via bank transfer. For very late bookings, the charge for the stay can be paid to our representative on arrival.
 1.7     Only those people who have booked to stay at the apartment are entitled to stay at Casa Epulona. If any additional people wish to stay at the apartment at short notice, we must be informed immediately. The apartment can accommodate a maximum of 6 guests and no more. If anybody is found to have stayed at the apartment without prior notice, this will constitute a breach of contract. Additional guests will be charged the full rate plus 50%. We reserve the right, if we consider the new occupancy to be unsuitable, to ask the entire party to leave the apartment immediately.
 1.8     If any changes are needed to the confirmed booking, you must inform us immediately and we shall endeavour to meet your request. However, we cannot guarantee that we will be able to meet your request if the change is very close to the date of your stay. If we are able to meet your request, then an updated account will be issued, with the same terms of payment as above.
 Arrivals and Departures
2.1     On the day of arrival, you may have access to the apartment from 1600 hrs. Guests are expected to arrive between the times of 1600 and 2200 hrs. If you expect to arrive after 2200 hrs, please let us know well in advance as special arrangements may have to be made. If our apartment representative has to be called out to give access outside the above times, an extra charge of €10 will be payable locally.
2.2     Our Apartment Manager, Sanja Jovanović at the Elim agency, needs at least one hour's notice of your arrival. Sanja, or her representative, will meet you in a convenient place, usually at the 'Elim agency' office which is shown on the map at page 6 below.
 2.3     You will be given the keys to the apartment. Sanja will arrange for your registration at the Tourist Office and will require the passport numbers of all guests for this purpose. Sanja will also ask for a security deposit of €200 (which can be paid in Croatian Kuna if more convenient). The security deposit is taken in the event of any damage to the apartment/contents and is returned at the end of your stay, providing all is well.
 2.4     If the apartment is not left in a reasonable condition at the end of the stay and extra cleaning or repositioning of furniture is required, a deduction will be taken from the deposit to reflect the costs involved.
 2.5     Guests must check out by 1000 hrs on the morning of their departure. Sanja or her representative will meet you at the apartment at an agreed time; check the apartment and inventory; refund the security deposit and collect the keys. If there is any damage or there have been breakages, the appropriate costs will be deducted from your deposit at the end of your stay. Should the cost of the damage be greater than the deposit, you will be asked to pay for this accordingly.
 2.6     If you have to leave very early (before 0700 hrs), please let us know at the time of your booking and we may be able to assist. A very early departure will incur an extra charge, payable locally. 
 3.0 The Apartment
 3.1     The apartment is situated on the third (top) floor. The advantage of this is the sunny aspect and the wonderful views that the apartment and terraces offer; however, the stairs do mean that the apartment is unsuitable for people with mobility difficulties. If you are in any doubt, then please do not hesitate to contact us and let us know your concerns and we will gladly advise you about the suitability of the apartment.
 3.2     If you have any special requests, please advise us at the time of booking. We shall try to meet all reasonable requests. You are responsible for bringing to our attention any other relevant information that may also affect your stay at the apartment.
 3.3     A stay in Casa Epulona provides a real experience of Rovinj life. The modern apartment is located on the top floor of a fine old house. Please respect our neighbours in the building, some of whom are elderly, by entering the building and using the stairs as quietly as possible, especially at night, and by switching off the stair lights when entering the apartment (switch in the lobby inside the apartment) or when leaving the building (switch by front door). Particularly at night, please try not to be loud on the stairs and please close the front door of the building and the apartment door quietly. Similarly, please do not make loud noise on the terraces and leave these clean and clear.
 3.4     All guests are expected to respect and have due consideration for other people and property. If, in our opinion, or in the opinion of our Apartment Manager, this consideration is not given and any member of the party causes damage to Casa Epulona or undue distress to any of the neighbours that is likely to affect our relationship and goodwill with our neighbours, we are entitled, without prior notice, to terminate your booking. In this situation, the person(s) responsible will be requested to leave the apartment. No refunds will be made and we will not be responsible for any loss suffered. In respect of any damage caused to Casa Epulona, we reserve the right to withhold part or all of the deposit to cover the cost of the damage.
 3.5     Casa Epulona is strictly a 'No Smoking' apartment. Pets are also not allowed. Please respect these rules.
 3.6     Any valuables left at Casa Epulona during your stay will be there at your own risk. There is an entryphone system and also a safe in the apartment.  However, you are advised to have appropriate travel insurance. Casa Epulona will not be held responsible for any loss or damage to you or your belongings and possessions. Please ensure that all of your party are protected by adequate travel insurance from the time of your booking and for the entire travel period.
 3.7     Under exceptional circumstances, we may be forced to change our terms and conditions and other details relevant to your stay at Casa Epulona. Whilst we shall endeavour to ensure such changes do not occur, they may at times be unavoidable. We do, however, reserve the right to make such changes if absolutely necessary. We cannot be held responsible for the failure of public utilities. We also cannot be held responsible for any noise or disturbance that may occur outside Casa Epulona.
 3.8     If, at any time, essential work or inspection is required at the apartment during your stay, then we shall be allowed reasonable access to carry out such work. You will, of course, be informed should this have to take place. 
 3.9     Each bedroom used will be provided with bed linen (sheets, pillows and pillow cases and cover). Two towels and a face cloth will be provided for each person staying. For bookings of over one week, bed linen and towels will be changed every 7 days. 
 3.10   We hope that you enjoy your stay at Casa Epulona. In the event that you are not satisfied or that you experience any problems during your stay, please contact Sanja, our Apartment Manager, who will try to rectify the problems as quickly as possible.                     
 APARTMENT MANAGER (ELIM AGENCY) CONTACT DETAILS
 Elim Agency
Manager: Sanja Jovanović
Address: Address: Andronelle 12A, Rovinj;
Telephone numbers:
Land line: +385(0)52811573
Mobiles: +385 (0) 922505998 or +385 (0) 919172894
Email: info@elim.hr